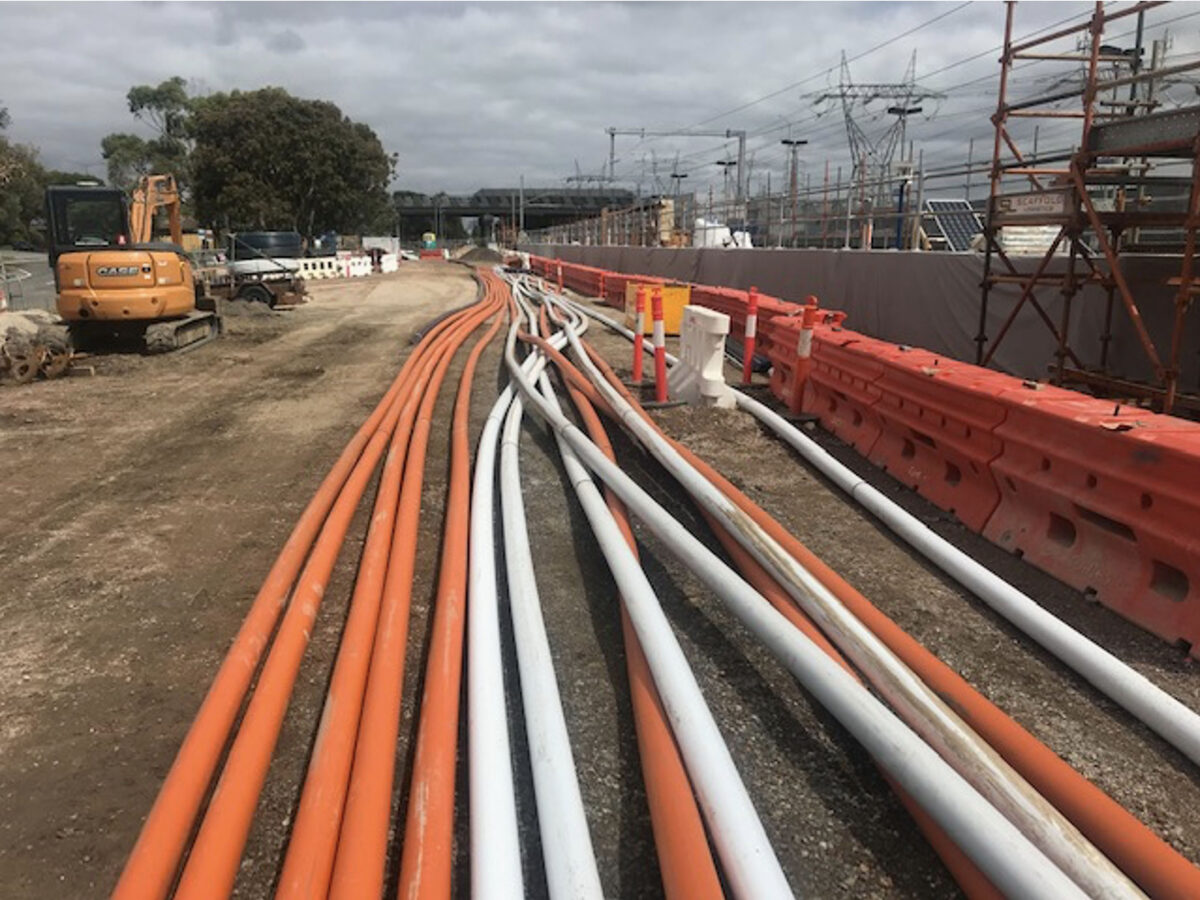 Cranbourne Line Upgrade LCRP
Cranbourne Line Upgrade LCRP
Directionally Drill and Construct  CSR Bores (combined Services Relocation) parallel to the rail corridor, major roads crossing, rail crossing at Railway station,
Over 5 sites 16 bores were constructed to accommodate infrastructure for Vic Track, High Voltage and Signals requirements (MTM) and Hydraulics ( Fire service, Pressure sewer, water & recycled water.
Learn more
Location
Cranbourne, Merinda Park station
Client
Southern Eastern Program Alliance / Uptrack
Pipe
40mm, 50mm , 63mm, SDR11. while 125mm SDR 13.6 and 180mm SDR 13.6
Geology
Clay geology with rock at deeper inverts
Length
Total 1,619 metres
Bore lengths per location varied between 48 meters to 280 meters in length, from point to point.
Each bore essentially parallel to each other however inverts varied in order to  construct in a contained surface area of the rail corridor
Conduit configurations range from 10 conduits to 4 conduits of various conduit sizes being 40mm, 50mm, 63mm, SDR11. while 125mm SDR 13.6 and 180mm SDR 13.6 as per required design.
As a result, bore diameters varied from 300mm up to and including 600mm as required for installation of conduit configurations.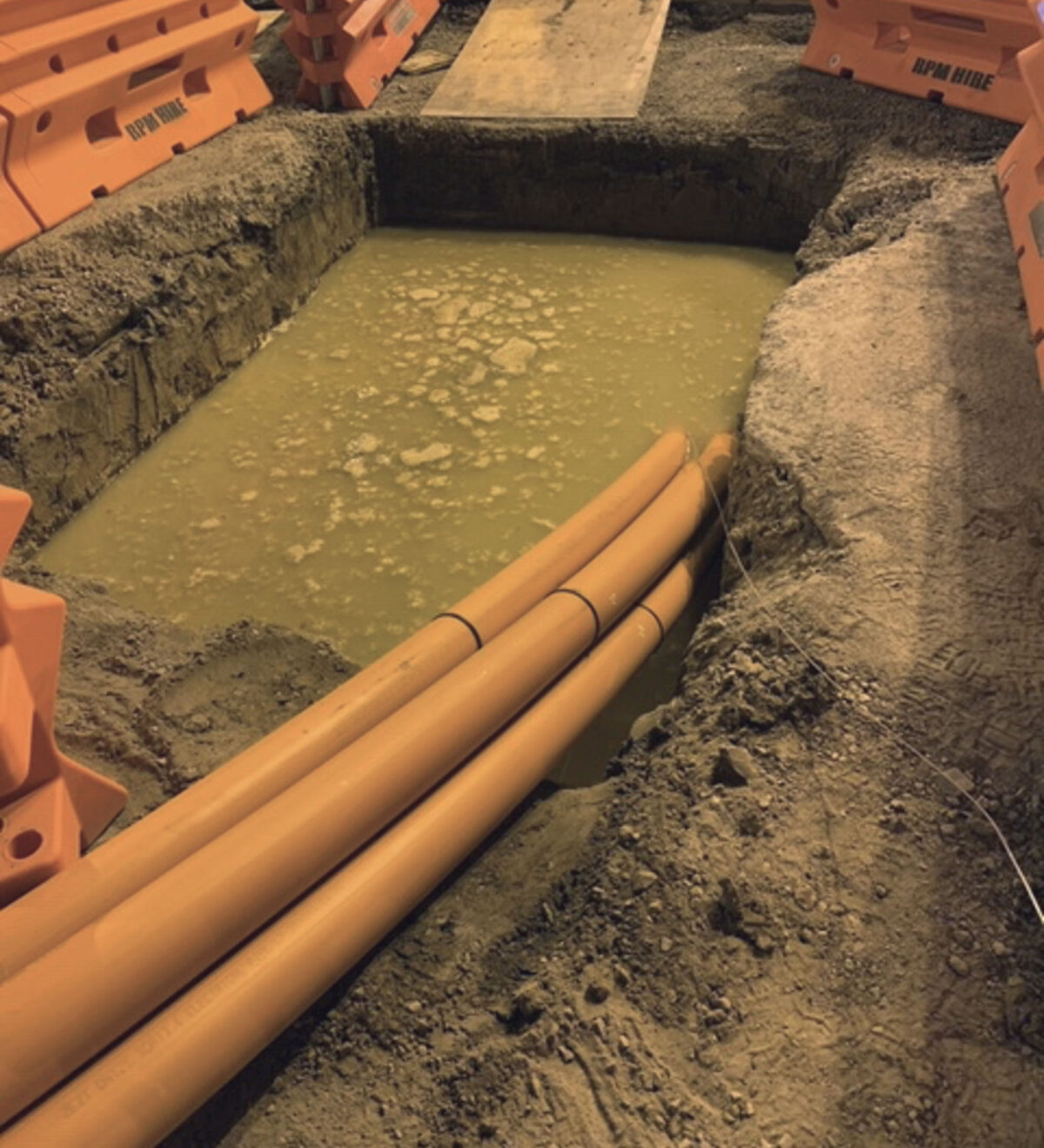 Project Value:
Over 5 locations on going
A total length of 1,619 mtrs of bores were completed prior to programmed delivery dates to design of a variety of lengths and diameters
Scope/Required:
Predominantly Clay geological conditions, Rock encountered at deeper inverts
Restricted zones
Stakeholder requirements / constraints required high level planning and controls in consideration of being a high density residential zones
Number of ppl required / team:
Average team of 6 personnel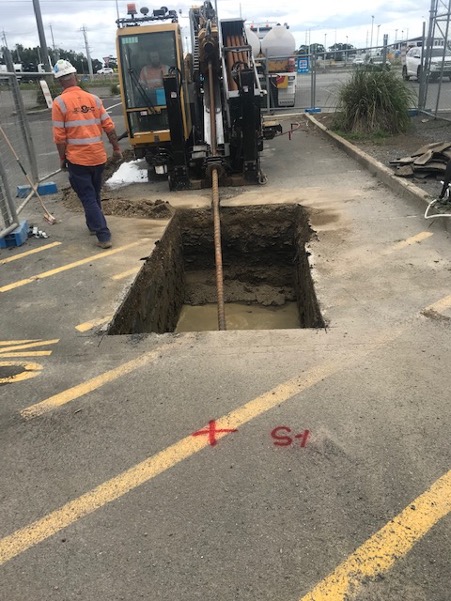 Highlights:
Coordination and planning the construction and delivery of 4 required bores during an occupation commencing 9.00 pm in the evening on a 24/7 program until completed
1 x 450mm bore – 66 mtrs
1x 350mm bore – 66 mtrs
1 x 350mm bore – 102 mtrs
1 x 350mm bore – 102 mtrs
Challenge was the management of waste produced during the night shifts so the drilling and installation of required conduits were not delayed.
Skills, knowledge, experience and planning by the team resulted in delivery as per design.
Highlight- Delivery well before program timelines, knowing all the planning and hard work resulted in a positive outcome
All 4 bores were completed by utilising 2 x Drill teams and resources in a single 12-hour shift.
The following dayshift ensured the site safe, clean and compliant along with the final demobilising of all plant from the site.
Uptrack and SEPA Staff – excellent to work with – preparation and daily support of the highest level which as result permitted prompt positive delivery of required build.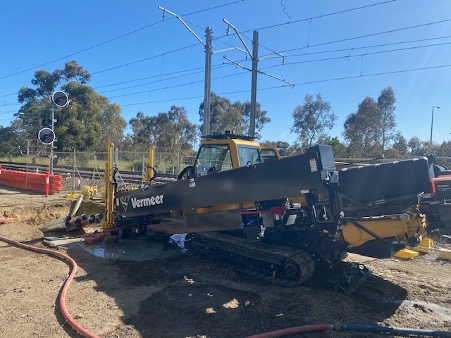 Techniques required, materials required:
Construct using Vermeer D60 x 90 Horizontal Directional Drill
Construct using Vermeer D40 x 55 Long Rod Horizontal Directional Drill.
Digitrak F5  Falcon Tracking system
Defined Mud mix to suit known Geological Conditions
Adequate water and Mud mix resources to permit consistent supply as required upon demand
Ample Vacuum Trucks to ensure smooth transfer of drilling slurry to Tip site without incurring delays to process
Special purpose tooling – reamers
Skilled Team
Precise planning pre commencement